Stats
Cillit Bang FC lost on both fixtures.
Cillit Bang FC scored in every game to date.
Cillit Bang FC failed to get back to back wins.
Cillit Bang FC Golden Boot Joint Winners - Stroud and Wrench.
Bang failed to score his 10th goal of the season.
10th Game of the Season for Lucho.
Lucho beat his best scoring streak of 1 game.
Mike failed to beat his best scoring streak of 1 game.
Mike failed to score back to back hat-tricks.
Stroud failed to score his 15th of the season.
Stroud failed to score against Mighty Ducks FC in both games.
Stroud failed to equal his best scoring streak of 3 games.
Stroud failed to score back to back hat-tricks.
Wrench beat his best scoring streak of 4 games - now 5.
Wrench failed to score his 15th of the season.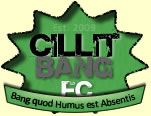 Match Report
Beaten
In summary... taken apart with to much ease at the back. The bright side, plenty of opportunities were created. Rare start for Mike, Bang and Stroud on the bench as CBFC were looking to redeem themselves for the first match of the season. Important game with lots of targets to set for next season and current awards for this season including top scorer and player of the season.
The first half proved a bad state of affairs from the Bang. Early pressure resulted in being 3-0 down. Perhaps having both B. Stroud and Bang as subs early on (both normally start a game very well) didn't help as Cillit Bang FC struggled to create a decent opening.
Straight from kick-off Wrench breaks through the midfield and gets his shot away, hitting the post and perilously rolling along the line. Further shots on goal were all saved by the keeper. Bang found an opening on a few occasions, his shots failed to cause any trouble. Clever play from B. Stroud and Wrench one touch passing it down the line wasn't rewarding after an interception broke up play.
Bang cut in from the wing shifting the ball back onto his left, fired his shot away, the ball rebounding onto Wrench, taken by surprise his impulse shot missing the open goal. Long in a similar position unable to convert his chance late in the half as he continues to search for his next goal.
A noticeable goal through the defenders wall on a free kick summed up the first half sloppy precedings.
Half-Time Score: Cillit Bang FC 0-10 Mighty Ducks FC
Bang inside his own half takes a shot from his free-kick, almost catching the keeper out, the ball is fumbled but stopped.
Goal Backpass from the midfielder avoids the keeper's area, the defender slow to react, Wrench getting to the ball first bringing the ball out of the corner to pass back to the support from Lucho, shifting the ball onto his right Lucho drives his shot to the left of the goal, the keeper unable to stop the ball fly into the top of the goal. Lucho's sets a new record for himself of scoring in back to back games.
Goal Pressure on the opposing goal, Stroud shoots, the ball picked up from the rebound by Wrench and scores across the goalie into the bottom right corner. Scoring in his fifth consecutive game going joint top scorer with B. Stroud. That brings up Cillit Bang FC's half century of goals.
Although the match was completely over, it was Cillit Bang FC's best game for shots on goal, the Mighty Ducks FC goalkeeper was in impeccable form as saves from Long, Stroud and Bang were all stopped.
With 1 minute to go Stroud breaks through on goal, his shot saved and with that the season is drawn to a close, in similar fashion to how it started.
Second Half Score: Cillit Bang FC 2-5 Mighty Ducks FC
Final Result: Cillit Bang FC 2 - 15 Mighty Ducks FC