Appearances:
1 Stroud - 4 Lambon - 9 Long - 14 Stroud - 17 Wrench
Starts:
1 Stroud - 4 Lambon - 9 Long - 14 Stroud - 17 Wrench
Whole Match Played:
1 Stroud - 4 Lambon - 9 Long - 14 Stroud - 17 Wrench
Penalty Miss: 9 Long
GOALS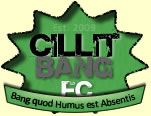 Match Report
Cillit Bang FC's inability to fill the bench proved costly and remain bottom of the table after another loss.
An early kick-off on a bitter cold night, Cillit Bang FC with no subs and only 5 fit and available players, long term absentees Mike (ankle) and Lucho (knee) were missing through injury and Bang/Matty both unavailable. However, better news in with Long back from holiday to take his place up front.
Early pressure from both teams until the breakthrough from Just 10 with a shot in off the post.
A mixup in a passback between the Stroud's resulting in an own goal to go 2-0 down. A nice 5 minute spell of keeping the opponent out was just what Cillit Bang FC were looking for until a flurry of unfortunate goals in off the post.
PENALTY for Cillit Bang FC, defender made a backpass in the goalkeepers area after good pressing from Lambon and Wrench. Penalty taken by Long and scored to the right but unfortunately ruled out as it was taken before the Referee's Whistle. The retake under further pressure was missed after being shot in the same place. Luck was not on the side of Cillit Bang FC tonight.
Half-Time Score: Cillit Bang FC 0-9 Just 10
Early second half, Lambon showed great defensive work by keeping out the opponent with a series of fine tackles. Tiredness creeping in and Cillit Bang FC unable to keep the sub from Just 10 in check showing fine skill done the left hand side.
Free Kick for Cillit Bang FC just outside the penalty area curled onto the bar from Long.
GOAL Lambon knocked the ball forward into space for Wrench to take advantage of lax defending to slot home and ruin another clean sheet. 20th Goal of the season for Cillit Bang FC.
The 11th goal was the 100th goal conceded in 7 matches and underlined that Cillit Bang FC were not getting the possession they needed to shut out the opposition.
Shots on the night were not troubling the Just 10 Goalkeeper, Wrench unable to show composure on a 1 on 1 with the keeper. A better second half showing again from Cillit Bang FC.
Second Half Score: Cillit Bang FC 1-5 Just 10
Final Result: Cillit Bang FC 1 - 14 Just 10