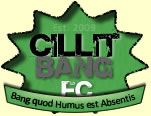 Match Report
Lack of Killer Instinct and many Mistakes cost CBFC the 3 points
First game of the new season, plenty of records and targets to beat over the next 16 games, no team line-up changes, playing the team whose previous season results were as follows: Played 14 Drawn 1 Lost 13
Start of the game the space and time on the ball felt far more comfortable to Cillit Bang FC against a team who struggled in similar fashion in the previous season. Good passing and movement as Cillit Bang FC were on top early on, M. Stroud hadn't a save of any note.
Goal 1-0 [B. Stroud] Good build up play from the team as Lambon slips the ball wide to Wrench, he passes across to B. Stroud, takes it round the defender and Bang, 1st goal of the season. 1-0
Lambon due a goal found himself in shooting range, his shot dragged wide. Lucho centre of the pitch had a go unable to keep the shot down. Break from the opponent, they levelled the match after sloppy defending.
Goal 2-1 [Wrench] Lambon under pressure from the attacker calmly passes back to M. Stroud, play starts again with the roll out to Wrench accelerates passed the attacker cuts inside on the left from the defender and unleashes his shot on goal, the shot to fast for the keeper to keep out, Wrench opens his account for the season and scores in his sixth consecutive game. 2-1
Good goal from the opponent after a one-two and calm finish, the opponent started to create some pressure.
Injury Blocking a pass from the defender, Wrench winded himself, subbed for Long after a goal conceded from the halfway line resulted in going 2-3 down.
The play started to tighten up after around 10 minutes, good defending from all players on the pitch, B. Stroud and Lucho shutting out good runs from the attackers. Lambon charged down the left wing after taking it past a player, his shot saved. Further intricate play between Long and B. Stroud was broken up, the counter attack quickly dealt with by Lambon. Lucho reminiscent of his goal during the recent Just 10 match, he pressured the defender high up won the ball, his shot with the outside of the boot just missed the post.
Goal 3-4 [B. Stroud] Just before the break, after going 2 goals behind, Long picks a pass out to B. Stroud and subsequently knocks in his second of the night. 3-4
Half-Time Score: Cillit Bang FC 3-4 Dorset Dynamos
Goal 4-4 [Mike] M. Stroud rolls the ball out to Wrench, who passes through to Mike under pressure from 2 defenders, the backup for the pass out of trouble available, Mike brings the ball out of the corner, turns and curls his shot in the top corner near post. On form 5 goals in 5 games for Mike. 4-4
Goal 5-4 [Wrench] Fully in the driving seat B. Stroud wins a free kick on the edge of the area, his shot comes off the post straight into Wrench's position, his instinctive contact with his right calf has just enough power and placement to creep inside the post, capping off a great comeback. 10 goals in 6 games now and looking for the elusive hat-trick, also now over a goal a game strike ratio. 5-4
Mistakes started to creep in as even when leading too many players were attacking and it was clear no one knew what there jobs were, positions were in fairness a joke and easy goals were conceded.
Goal 6-6 [B. Stroud] Cillit Bang FC in need of some last minute goals, get one after a darting run through the centre, Wrench slips in B. Stroud after being brought down. His hat-trick complete. 2 hat-tricks in 3 games, 7 goals in 4 games. 6-6
After 5 minutes to go both teams were going for the win Long and B. Stroud came close from passes from Wrench, their shots saved.
With 2 minutes to go, the opponent scored after a good turn and finish at the near post... deflated. Right at the death Long in the corner couldn't work the space for shot.
The game was very close with Dorset Dynamos going 2 goals in front on one occassion, both sides battled back from losing positions, had Cillit Bang got a 2 goal lead the win or draw looked likely. Lack of positioning and tactical positions of the players was the main reason why this game was lost. Too many players were attacking and leaving too much space at the back. It is said you learn more from your defeats, Cillit Bang FC will look at these faults before the season fully gets under way...
Second Half Score: Cillit Bang FC 3-3 Dorset Dynamos
Final Result: Cillit Bang FC 6 - 7 Dorset Dynamos

Voter

(1) Stroud
(4) Lambon
(8) Lucho
(9) Long
(10) Mike
(14) Stroud
(17) Wrench
Chosen Player

(8) Lucho
(8) Lucho
(14) Stroud
(8) Lucho
(8) Lucho
(8) Lucho
(14) Stroud
Reasons

Same reasons as other team-mates suggested.
-
-
For his defensive work and passing.
Doing a great job in defense and if there was 2 of him we would of had a clean sheet.
His defensive skills were as great as ever. Shouldn't have come off the second time in the 2nd half though.
Took his chances and scored the hat-trick, made good defensive tackles.
(8) Lucho

- Man of the Match against Dorset Dynamos