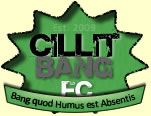 Match Report
Crushed CBFC
Urban United opened the scoring after a decent start from Cillit Bang FC, the scorer was left with lots of space to pick his spot.
Penalty Within seconds of the restart, from a miss pass from Lambon through the middle, very stupidly both the defender and goalkeeper 'with more time than a clock in slow motion' put themselves in trouble, by handling the ball on the edge of the area to concede a penalty.
Goal 1-1 [B. Stroud] Penalty B. Stroud side foots the penalty kick low in the bottom left corner.
A lead is established immediately with a scruffy move of passes down the left, after the restart M. Stroud makes a fantastic save with his foot back across goal to cut out the free shot on goal from the earlier rebound. The play was fairly fierce, CBFC's goal was under the most pressure but the score
Injury His shot blocked, the force of the tackle twists Wrench's ankle and needing a substitution.
Great tracking back from B. Stroud on an opposition free kick to snuff out the free space, it was a period of play of defending, Urban United could not get through yet Cillit Bang FC could not get hold of the ball long enough.
Goal 2-2 [B. Stroud] A lax pass to B. Stroud is all he needs as he shimmy and shot through the legs of the defender into the corner.
Again Urban United take the lead within seconds, with two free players on the penalty spot not tracked by the defenders. The lead is doubled within the minute. Wrench went close with a couple of shots but a bad pass from M. Stroud near the end of the half straight to the striker hands an easy goal away.
Half-Time Score: Cillit Bang FC 2-5 Urban United
Cillit Bang FC struggled to keep possession as well as Urban United and were always chasing after play, Mike passing straight to an opposition player for an easy goal, it was a major problem the goal was underfire from shots, M. Stroud doing well to keep them out yet sloppoy defensive lapses and poor passes were gifting easy goals away.
Goal 3-10 [Matt Long] Free Kick Taking the free kick with a long run up Matt fires an unstoppable shot with the outside of his boot into the right side of the goal.
With the score out of sight and the game over, Urban United were getting all the counter attacks favour them, any chance they got came with a goal. Cillit Bang FC missed Lucho badly as Urban United exposed the sloppy passing and poor defence display in a very one sided second half.
Second Half Score: Cillit Bang FC 1-6 Urban United
Final Result: Cillit Bang FC 3 - 11 Urban United

Voter

(1) Stroud
(4) Lambon
(8) Lucho
(10) Mike
(17) Wrench
(-) Robinson
Chosen Player

-
-
-
-
(14) Stroud
-
Reasons

-
-
-
-
Stood out and managed to score again in a difficult game.
-
(14) Stroud

- Man of the Match against Urban United