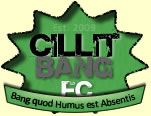 Match Report
CBFC hit for Just 10 goals
Full team selection but undone with not enough goals from the players supporting the number 14 Stroud who notches 4 goals for the first time in a Cillit Bang FC shirt.
First goal was conceded with Lucho getting wrong footed early on, B. Stroud went close on 2 occasions, his free kick just wide. There wasn't much to do for Just 10's goalkeeper, M. Stroud wasn't forced into anything difficult either.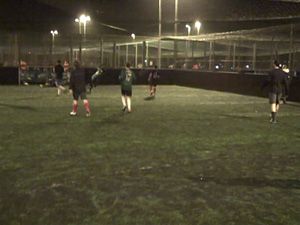 Goal 1-1 [B. Stroud] From the kick off B. Stroud passes to Kev he passes across to Wrench he finds Lucho, he quickly sets up B. Stroud and waits for a chance to get his shot away to score in his 5th consecutive game.
Cillit Bang FC getting more of the ball and went close as B. Stroud wonderfully turned and shot back across the keeper. A goal was conceded from the striker holding off B. Stroud, Lambon and Lucho to score against the run of play.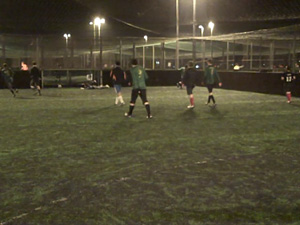 Goal 2-2 [B. Stroud] M. Stroud rolls the ball out behind the 2 oppostion players to B. Stroud and with plenty of space to manoeuvre he charges down the pitch and shoots across the keeper.
Stroud gets caught in possession on the edge of his own box and the ball lands to the up field defender to slot the ball in the net.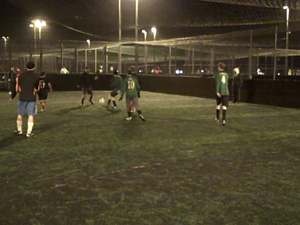 Goal 3-3 [B. Stroud] Ball is won back off a double deflection by Mike and Long, Mike passes through to B. Stroud who excellently slips the ball past the foot of the defender with the outside of his boot, a cool finish completes his first half hat-trick and second for the season.
From the kick off Long almost slipped the ball past M. Stroud in what could of been an unfortunate incident. Good shots from Lambon and Wrench were brilliantly saved.
Half-Time Score: Cillit Bang FC 3-4 Just 10
It was a struggle to get out of their own half, Just 10 were pressurising high up with 3 players, the goals conceded didn't match the play, both halfway line and a minute angle, goals which should have been dealt with. Lucho's pin point goal restoring some hope.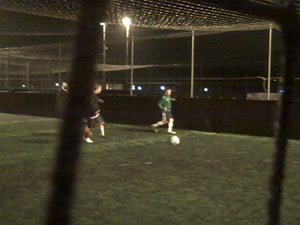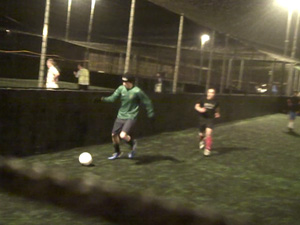 Goal 4-6 [Lucho] Lucho and Lambon combined with great effect, Lucho's left wing run undetected and a first time clean strike evaded the goalkeeper's hands who could of done better.
Play was fairly even with no real danger to either goal, Lambon, Long, Mike and B. Stroud all going close, the best opening came to the opposition and he obliged with a goal.
Goal 5-7 [B. Stroud] Long and B. Stroud this time combining from kick off as a finish from a tight angle managed to end in the back of the net with the keeper fumbling.
B. Stroud (on a roll) allowed the pass out from M. Stroud to roll across his body and hold off the challenge, his shot better saved this time round. With both defenders Lucho and Lambon both off the pitch a sloppy goal was conceded... the opposition defender unmarked and unchallenged on the edge of the area had no problem hitting home the rebound. Both Wrench and Long went close to pegging the score back, Long tackling and breaking through the middle, his shot saved to his dismay.
The attacks weren't breaking through and Cillit Bang FC were susceptible on the counter, the match all but over as the 8th goal was conceded. M. Stroud made a brilliant diving save to stop a shot on an open goal, unfortunately for him the spin on the ball bounced it into the net after coming back down.
Lucho had a great chance at the end after being put through by B. Stroud, his shot wide. Long just after striking with his wrong foot.
Fair result in the end of a competitive match, Just 10 surviving the 2nd half pressure. Cillit Bang FC needed another goalscorer to support B. Stroud's goals tonight, had that happened it may have been far closer.
Second Half Score: Cillit Bang FC 2-6 Just 10
Final Result: Cillit Bang FC 5 - 10 Just 10

Voter

(1) Stroud
(4) Lambon
(8) Lucho
(9) Long
(10) Mike
(14) Stroud
(17) Wrench
Chosen Player

(14) Stroud
(14) Stroud
(14) Stroud
(14) Stroud
(14) Stroud
(9) Long
(14) Stroud
Reasons

Simply cause i set him up and he delivered.
Scored 4 goals and held the ball up well to bring others into play.
-
For his four goals, the unselfishness of Stroud when we were both through on goal, as he let me take the shot
For being a different gravy.
Defended great, made some good attacking runs, unlucky not to score...and for his good communication off the pitch!
For taking Cillit Bang FC scoring to another level and notching up 4, aswell as getting stuck in and playing very effectively all the time.
(14) Stroud

- Man of the Match against Just 10