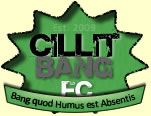 Match Report
Sloppy Snoopies in defense
Team changes as Lucho and M. Stroud come back in the starting line up. Lambon misses out this game, Robinson comes in as a replacement. Cillit Bang FC failed to capitalise on the opposition with no subs, the result although fair could of been so different had it not been for sloppy defensive errors.
Early goal was conceded after miscontrol by Lucho allowed the attacker to cut in to the centre and score. Cillit Bang FC were chasing after the ball and couldn't get any possession, Urban United were controlling the game keeping the ball and passing tha ball around, no notable shots on target from CBFC. No stoppages in play for a long period until the 12th minute and a third goal was conceded, a spark of energy was needed.
Goal 1-3 [B. Stroud] From the kick off B. Stroud passes to Robinson he passes across to Wrench he finds Lucho, he quickly sets up B. Stroud and waits for a chance to get his shot away to score in his 5th consecutive game.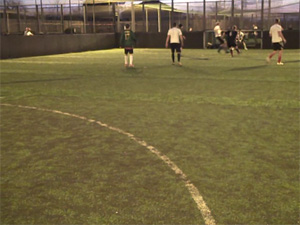 Goal 2-3 [Robinson] From M. Stroud's roll out the ball is intercepted, kicked off the side and B. Stroud manages to win the ball which lands in Robinson's path, he comfortably side foots it past the keeper. Robinson's now on 2 goals in 2 games.
Play was starting to even up until B. Stroud tries to take on attackers on the edge of his own box, loses the ball and Urban United score. A unfortunate piece of luck as a shot saved by M. Stroud flies up and back into the goal. Robinson's tackle, run and effort at the end of the half was too far out to beat the keeper.
Half-Time Score: Cillit Bang FC 2-5 Urban United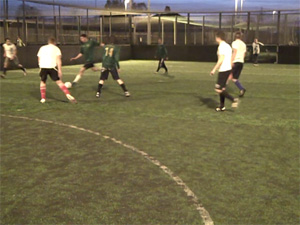 First few chances went Cillit Bang FC's way as B. Stroud's run and shot is blocked out, Robinson's unselfish pass to B. Stroud and shot wasn't hard enough to trouble the keeper. Good pressure all round, Robinson was fouled in some build up play and Long's goal was disallowed to allow play be brought back to the foul, the advantage rule was not applied frustratingly.
B. Stroud shoots and wins a foul from the resulting play from the free kick.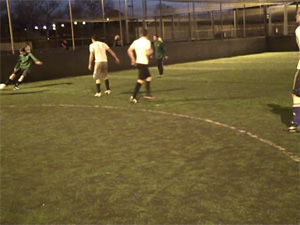 Goal 3-5 [B. Stroud] Poor shielding from a sparse one man wall enables B. Stroud to score in the far corner direct from the Free Kick.
A very fortunate pass out by the goalie finds a quick footed player to instantly hit back with a goal. Two poor free kicks by Long as he wastes an attacking free kick by hitting it into the wall and then passes to the striker who easily taps it into the far corner. B. Stroud and Robinson between them get 3 shots on goal in rapid succession.
Play goes the other end and after a great one handed save to deny the opposition he gets caught getting up too slow as the third attempt is easily tapped in, fortunately the opposition player can't seem to see he has to shoot behind the white line so he fouls.
Mike then gets fortunate not to concede an own goal, good defensive play from Robinson enables him to setup Mike, he shot taken too early on perhaps the wrong foot. Straight from there the defender darts down the left wing and easily places it into the goal after M. Stroud goes down too early in his area.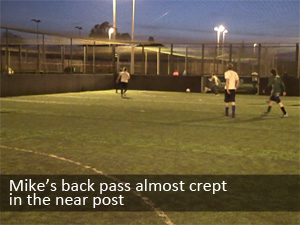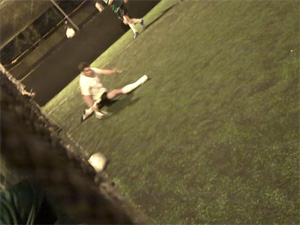 Goal 4-7 [Long] Something to cheer about as M. Stroud drops the ball to Robinson and he sends a lofted pass to Long, who cleverly allows the ball to pass through his body and he strikes a clean finish. Long's best scoring streak of 2 games.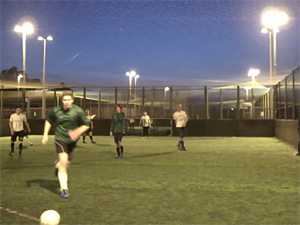 Goal 5-7 [Long] Pressure from B. Stroud and then Wrench, Long gets himself the ball on the line and strikes it across goal off the keeper and in. Long now on another hat-trick chance in back to back games.
Within getting back into it possibly it only takes one pass and a shot to lose a silly goal to concede. Long attempts a tackle, the defender sidestepping him, B. Stroud tries to leave his defensive position and a vacant right side of the pitch a shot is easily hit across M. Stroud. Poor mistakes.
Goal 6-8 [B. Stroud] M. Stroud rolls the ball upfield to Wrench, outmuscled he loses the ball, the keeper rolls it to the defender, he passes it straight to B. Stroud to easily score his third consecutive hat-trick.
Some subs and good play from Lucho now on who sets up B. Stroud, his shot finger tipped round the goal.
Goal 7-8 [Wrench] Wrench forces pressure high up and the defender loses control of the ball, Lucho is first onto the free ball and slides it back to Wrench. Wrench side foots it first time under the diving goalkeeper. Wrench now at his halfway goal tally for last season.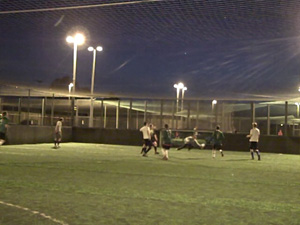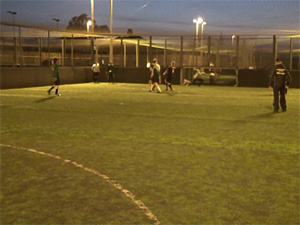 Energy starts to build up now a few goals have been scored in succession, trying to get the ball out their half, Wrench wins a foul. Lucho gets stuck in with some tackles and M. Stroud stands firm in goal. Wrench loses a foul after a clash of heads when going for the tackle.
B. Stroud passes to Lucho and the ball is taken off his boot as he shoots with his right, left foot looked a better option. 3 players in advanced position didn't help as Mike alone at the back the ball is played to his marker and passed to the side where B. Stroud and Lucho's position were clear to run into, the goal easily scored.
Some good high pressure and passing play between Robinson, Lucho and B. Stroud, in particular Lucho who wins the ball from a poor roll out but his shot to central to trouble the goal. That was the moment a draw or win could of been fought back as the opposition had no subs and could of made their final five minutes nervous. This was evident as B. Stroud on his second attempt passes to Long, instead of shooting early he looks to bring the ball inwards and loses possession, an easy finish wraps up the match for Urban United.
Getting stuck in was there to see from Cillit Bang FC but not enough pressure on their goal, closest was Wrench with a free kick, fortunately he also got away with not conceding a penalty when he clearly touched the ball inside the box, the match over by then anyway. A near post finish which finished the scoring.
Second Half Score: Cillit Bang FC 5-6 Urban United
Final Result: Cillit Bang FC 7 - 11 Urban United

Voter

(1) Stroud
(8) Lucho
(9) Long
(10) Mike
(14) Stroud
(17) Wrench
Robinson
Chosen Player

Robinson
-
Robinson
Robinson
Robinson
Robinson
-
Reasons

-
-
Goal and assist, and for good direction of play on and off the pitch.
Hands down, Pete mkII
Great communication and solid performance.
Solid in his position, scored, an assist, didn't give the ball away.
-
(-) Robinson

- Man of the Match against Urban United