Matchday // Match 18 v TDFC - Season 9 // Cillit Bang FC
Sunday, 1st September 2013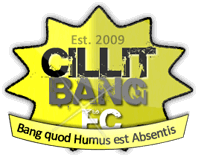 v TDFC
The Matchday Centre
Result
Lost // 1-2
1st Half Score 1-0
2nd Half Score 0-2
Shots
Shots
on Target
%
Blocked
Appearances
1 -
9 -
11 -
18 -
23 -
Daddy
Lewandowski
Reus
Sahin
Schieber
Josh M
Starts
1 -
9 -
11 -
18 -
23 -
Daddy
Lewandowski
Reus
Sahin
Schieber
Josh M
Defeat Sinks Club to Bottom
Team News: Hummels and Subotic dropped out, Schieber and Reus in.
Previous Results: Played 9 Won 6 Drew 1 Lost 2 - An exciting draw with plenty of goals.
The end of the season provided yet more misery. Knowing avoiding defeat kept the opponents below them in the table Lewandowski's first half goal looked likely to end the season with some pints. However TDFC who needed to borrow a couple of players to drum up a side had plenty of chances with shots not troubling the CBFC goal enough.
This changed in the second half Josh already had gone close a few times to score in back to back games yet he was denied on another occasion. TDFC equalised with a fine goal, pulling players out of position and punishing the defence. The game poised at one a piece the key moment came when Sahin with pace to burn on the counter attack placed his shot wide of the post with just the keeper to beat. TDFC wasted no time scoring the winner moments later, unlucky for Reus after he had turned away from the ball, he accidentally knocked the overhit cross to the edge of the box. A well taken volley saw TDFC overtake CBFC into 9th place.
Full-Time Result: Cillit Bang FC 1-2 TDFC